Chihiro Kanon | Manga Artist Interview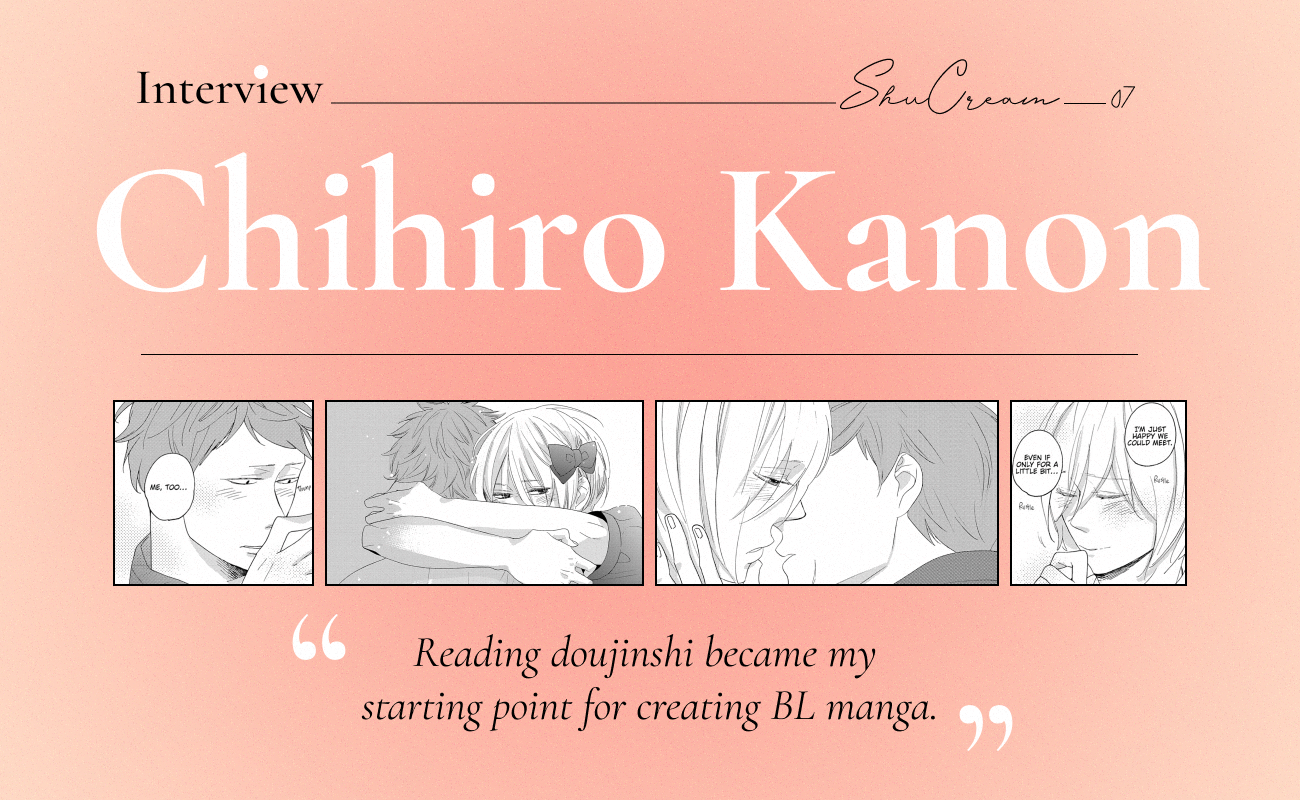 This time we present the interview with Chihiro Kanon. Known for their romantic comedy manga series of intersex teenagers called "My Androgynous Syndrome", their works are saturated with a nice balance of purity and sensuality. Find out more about mangaka's working process, favorite movies, and hobbies.
"I love to paint!", "I want to be good at drawing!"… When did you first feel that? How did it all start?
I was an elementary school student when I felt something like that for the first time. I had so much fun drawing pictures.
What was the first character or manga you drew?
I used to read some shojo manga magazines, so it probably was some of my favorite characters from the manga I liked at that time. But, sadly, I don't remember the character's name.
When did you feel the urge to draw BL manga?
I used to read doujinshi, so I think it became some kind of the starting point.
Is your manga usually born from the story?
Or do characters come to your mind first?
In many cases, characters are born first.
What are the moments you enjoy the most when creating manga?
When I'm thinking of ways to implement my sexual fetishes into a story. The inking process is also one of my favorites.
On the contrary, what is the most challenging part for you in manga creation?
For me, it's probably storyboarding and sketching.
What parts are you most particular about when creating characters?
I always care about characters' facial expressions and bodies, so that they look as natural as possible.
What do you prefer to do when drawing manga?
I usually make storyboards in silence. But starting from the inking (including all further processes), I prefer to have some movie or drama playing in the background during the work.
What does "manga creation" mean to you?
It's a part of my lifestyle.
Where do you get inspiration from?
I get inspired by many various things.
What works have you read/watched/listened to recently that have left a deep impression on you?
"Big Hero 6," "GHOST IN THE SHELL" (I regularly watch the series), and "Jujutsu Kaisen 0."
Is there anything you have been obsessed with these days?
Recently, I've been into watching game live streams.
Out of all BL character types, what is your favorite one?
I like clingy tops.
"If I were not a mangaka, I would be…"
I would probably be a part-time worker.
As a reader, what is your favorite story setting?
I like romantic comedies.
What do you think about the growth of popularity of the BL genre outside Japan?
I feel very contented.
Please leave a message to your fans.
Thank you very much for your support!