Same Zarame | Manga Artist Interview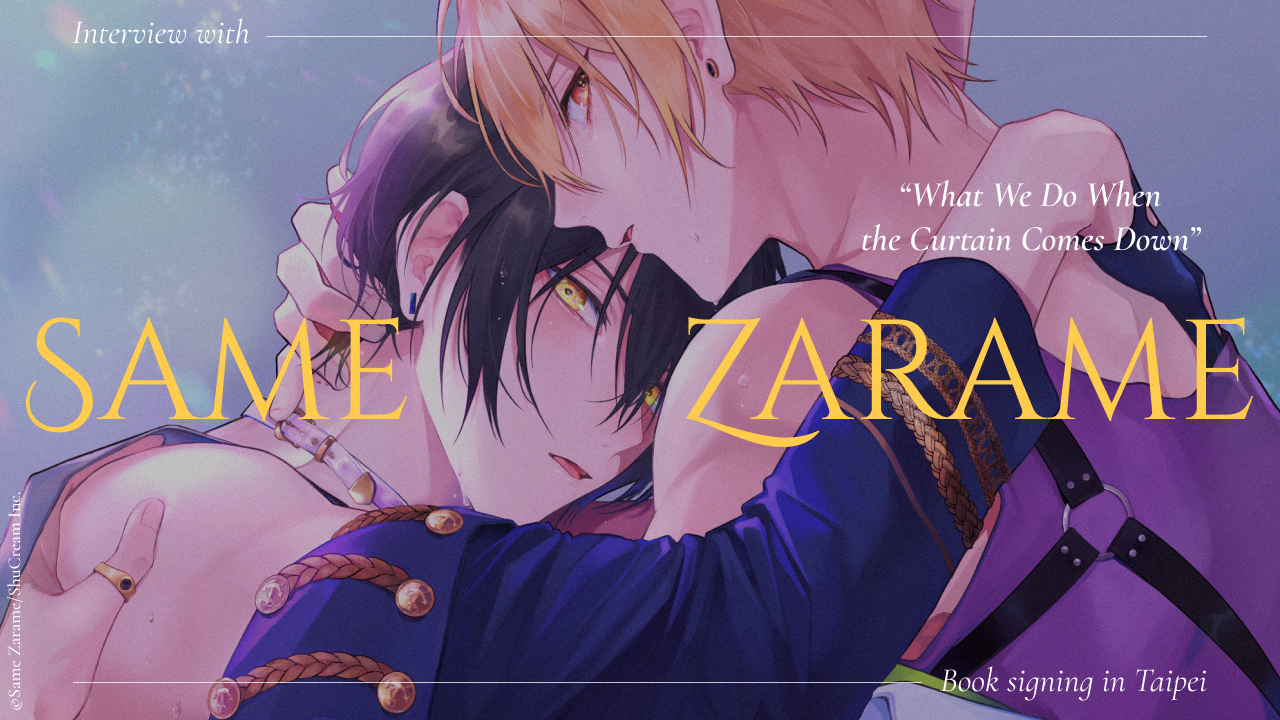 Same Zarame: Profile
Zodiac sign: Scorpio
Blood type: O
Birthday: November 4
Debut work: "Moushinteki Cherry" (*published April 25, 2019; no English translation)
Hobbies, current passions: manicure, makeup, let's plays
Favorite food: sushi, peach, alcohol-free chocolates
Least favorite food: milk and cheese
What makes you happy about being a manga artist: receiving feedback letters from readers, and having other people enjoy my drawings and manga because they mean a lot to me.
The hardest thing about being a manga artist: sometimes I wonder if anyone reads my manga. This kind of thought makes me feel lonely.
Message to Taiwanese readers: I've always wanted to visit Taiwan, and I'm happy to be able to come here for the book signing event!
Q1: What We Do When the Curtain Comes Down is a story about the entertainment industry, and we can see various industry-related details and settings in the manga. Did you interview somebody for this work? If so, could you share a particular moment that impressed you the most?
I get asked this a lot, but I didn't interview anybody. Though I find cute girls adorable and watch from time to time girl idol groups' live DVDs, the truth be told, I've had no real experience of being an idol otaku. Luckily, many of my acquaintances are idol fans, so the stories I hear from them give a huge boost to my imagination.
But since this work is about idols and not fans, if I leaned too much toward the latter's side, it might make the story core, which focuses primarily on the love relationship between two male idols, more vague. So I always try to narrate the story from the idol's perspective.
Q2: The main characters' debut song EDGE has been released. Our congratulations! Do you have any thoughts or memorable moments about this project?
I was genuinely surprised."Is it going to be a real song? It's not even a big title that is getting an anime adaptation. Is it really okay to make a song?"– that was my honest feeling.
However, for the past two years or so, we've been intentionally trying to promote Limtity as a real boyband. Speaking for example of the collaboration cafes and featured events we've held so far, instead of focusing on the manga by emphasizing the title itself, we presented the events as ones dedicated to the idol group Limtity. So I feel that the song release is the best way to make it look and feel like a real existing boyband. I'm glad that we were able to make it happen.
I had a clear idea of what I wanted Limtity's songs to be like since the moment I started drawing this work. The songs appearing in the manga had been thought out to the smallest detail. I was glad that the music production team working on the project kindly listened to my detailed vision. Being able to contribute to the process by sharing more details on Limtity settings that I had never told anyone before made me feel very happy.
Q3: The protagonists of this manga series – Mahiro and Mitsuki – are charming and well-received by readers. Is there anything particular that you want to show or express when drawing them?
Mahiro is a well-behaved and straightforward boy beloved by everyone, but who also has some imperfections because of his young age. If I'm not concentrating enough, I tend to draw his face way too cute. So from the second volume, whenever I draw him, I've made it a habit to visualize him as a guy 180 cm tall.
Mitsuki is too serious and worries a lot, so at first sight he may seem to have a hard life. But since he has confidence in himself thanks to his past work experience, and because of my personal preferences, I don't want him to be perceived as weak, so I always try my best to draw him so that he looks cool. Besides, I want Mahiro to think that Mitsuki is cool too.
Q4: Your characters also have very varied and fashionable styles. What styles of clothing do you like to draw in particular? 
Although I enjoy drawing casual outfits because they reflect each character's tastes and preferences, I prefer drawing stage costumes more. I really enjoy coming up with a theme and a concept for an outfit, then deciding on the various elements that would fit the concept, and combining and ultimately transforming them into a performance costume.
Q5: The next one is a bit delicate question, but it's probably of interest to the readers… What are Mahiro and Mituki's sexual preferences?
Mahiro is a doggy style-lover because in this way he can perfectly see the mark on the Mituki's nape. Also, it gives him a feeling of dominance which turns him on even more. Being unable to see Mitsuki's face, though, is what, for sure, annoys him a bit. 
Mitsuki considers himself the one with pretty high stamina, so he wouldn't mind some erotic pain, but finds it hard to say. I feel that Mitsuki has a much higher libido by nature, so if he'd told everything to Mahiro, he would certainly be down for whatever role-playing Mitsuki desired… But there probably won't be much time to incorporate these ideas into the main story.
Q6: If you were to go to Limtity concert, what kind of messages would you put on your uchiwa fans to Mahiro and Mitsuki?
To Mahiro:
"Which one do you like the most?
①Grilled meat ②Fruit sandwich  ③Mitsuki-kun"
To Mitsuki:
"Come on! Give us more cuteness!"
Q7: Besides the currently serialized manga titles, are there any subjects or topics you would like to try to create a manga on in the future?
I'd love to create something more melancholic and gloomy. Also, since I've never drawn anything office-based, I would love to give it a try someday.
Q8: Thank you very much for coming all the way to Taiwan for the book signing event. Are there any places you would like to visit, things you would like to experience, or foods you would like to taste during your stay here?
I've heard from many people that the Shilin night market is a fascinating place. I'd love to go there. Though these are not tourist attractions, because I'm interested in buildings with unique architecture, it would be nice to see Tao Zhu Yin Yuan, the shipping container-based café in Hualien City, and the National Taichung Theater.
Read "What We Do When the Curtain Comes Down" in English

here

.