Emu Soutome | Manga Artist Interview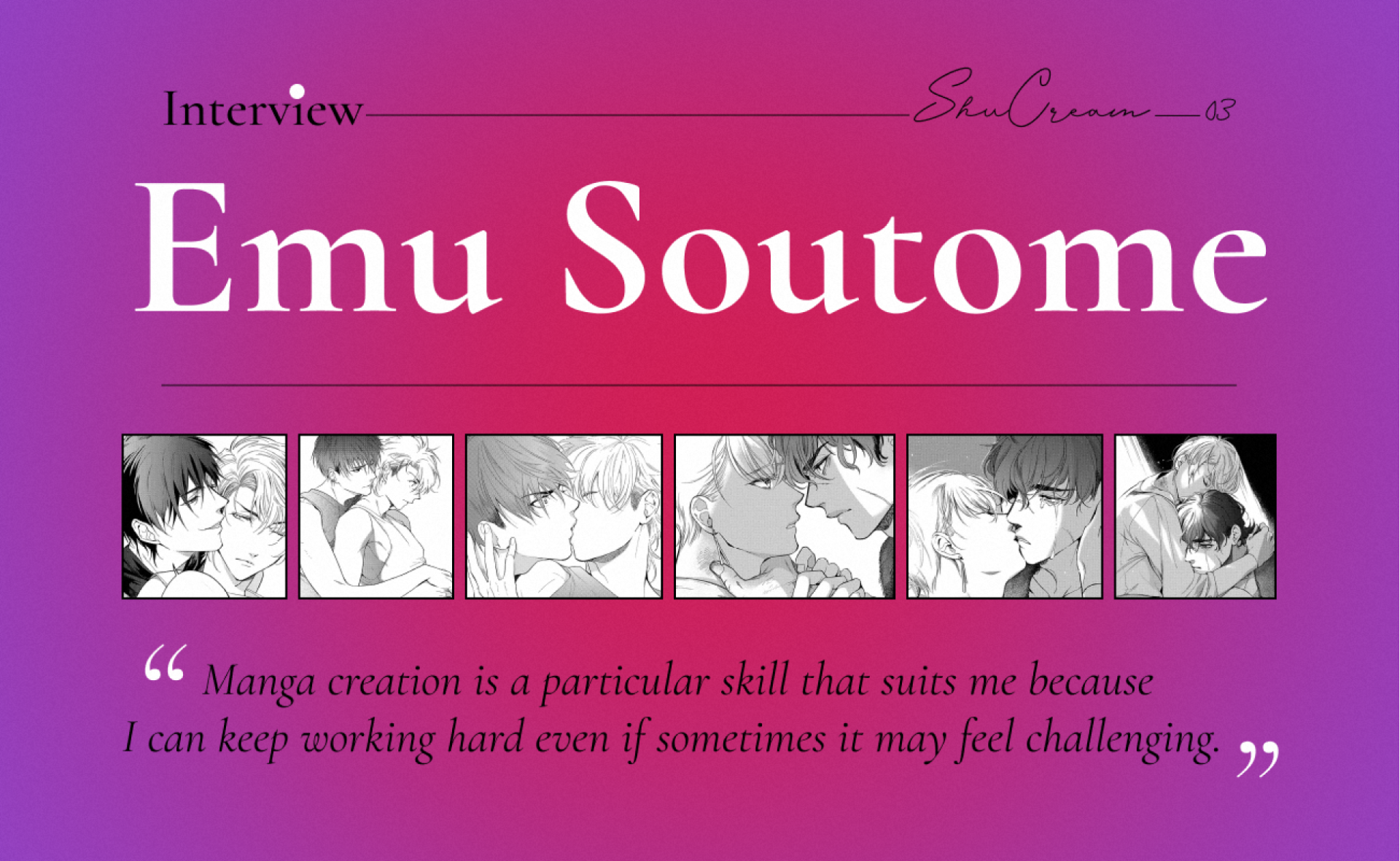 We want to dedicate this month's interview to Emu Soutome, the author who creates unbelievably beautiful fantasy worlds with memorable and touching characters. "A Kiss that Stains the Innocence" and "I Will Never Fall in Love with an Egoist" are just a few examples. Learn more about what manga creation means to sensei, their favorite movies, BL's favorite couple pairings, and more!😉
"I love to paint!", "I want to be good at drawing!"… When did you first feel that? How did it all start?
I have liked drawing since childhood. But the thought of becoming good at it came to my mind when I actually started my career as an artist.
What was the first character you drew?
It's Dale – a character from the cartoon called "Chip 'n Dale: Rescue Rangers".
When did you feel the urge to draw BL manga?
My first encounter with BL happened when I was a high school student. But actually, I started drawing it through the influence of my university friend.
Is your manga usually born from the story?
Or do characters come to your mind first?
In most cases, a highlight scene I want to draw pops up in my head first. Then I think of the story which would lead to this moment. And after that, I start designing characters.
What are the moments you enjoy the most when creating manga?
I like the plot creation stage and manga-naming. I have the most fun when working on story settings!
What is the most challenging part when creating manga?
I think it's when I feel that some character's expression doesn't look the way I wanted it to be. Also, when I realize that some dialogues that I considered perfect at first no longer look suitable, and even though I still can't find the line, that might be an appropriate alternative.
What parts are you most particular about when creating characters?
I get pretty particular about hair flow when drawing long-haired characters. Also, since I draw fantasy stories a lot, I spend pretty much time designing clothes.
What do you prefer to do when drawing manga?
From the plot creation, naming, and till I get all sketches done, I usually spend time in silence, alone with my manuscript. Starting from the line drawing and all further processes, I spend listening to the radio or playing any video in my background.
What does creating manga mean to you?
I think it's kind of a particular skill that suits me because even in times when I can't get enough sleep, I still enjoy thinking about the story I'd like to draw, and I can keep doing my best and work hard even if it may feel challenging.

Where do you get inspiration from?
I think I get inspired by my favorite anime and manga a lot. I also find inspiration in memories from my travels and strange, scary dreams I have when getting busy.
What works have you read/watched/listened to recently that have left a deep impression on you?
Out of anime, I would say "Odd Taxi". As for the movies, I would pick "Key of Life" and "The Fall".
Is there anything you have been obsessed with these days?
A Nintendo Switch game called "Animal Crossing: New Horizons". I'm so in love with the Happy Home Paradise! I've been building villas for a long time.
Out of all BL character types, what is your favorite one?
I like a mentally strong, determined, self-confident, but sometimes lonely character.
What is your favorite couple pairing in BL?
My favorite one is physically strong and good-looking but with some traumatic experiences hidden inside Top, and mentally strong and crazy in some way Bottom.
"If I weren't a mangaka, I would be…"
Since I worked at a company until a few years ago, I think I would probably be a company worker…
As a reader, what are your favorite story settings?
Speaking of the BL, I'm a huge fan of battle stories. In proportion, it would look like: five battle stories VS two slice-of-life stories, two love stories, and one erotic story.
Besides BL manga, I like reading slice-of-life stories mixed with jokes.
What do you think about the rising popularity of BL outside Japan?
I'm pleased to receive more and more letters and emails with feedback from overseas fans. BL has become a worldwide genre, so I thought it would be cool to have a website through which we could distribute BL manga translated into various languages.
Please leave a message to your fans.
I would like to express my deepest gratitude to all who read my work. Thank you very much! With the current state of the world, please take care of yourselves.